So there's an article on HN today about how in-app purchase is destroying the game industry. There are a couple of problems with this theory.
The original in-app purchase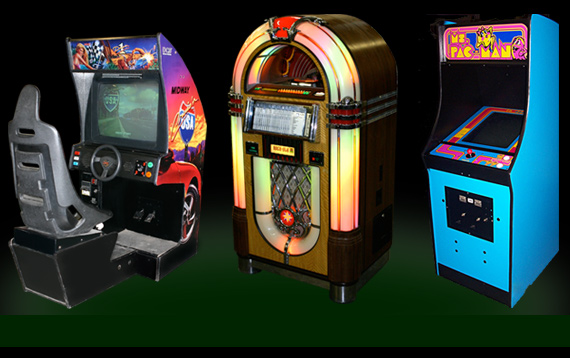 See, in the in-app purchase model actually predates phones. It predates video game consoles. It goes all the way back to the arcade, where millions of consumers were happy to pay a whole quarter ($0.89 in 2013 dollars) to pay for just a few minutes. The entire video games industry comes from this model. Kids these days.
But in fact, the model predates computers. I can trace it at least as far back as the Periscope mechanical arcade game from Sega in 1966 that offers to sell you ten lives for 25 cents ($1.80 in 2013 dollars).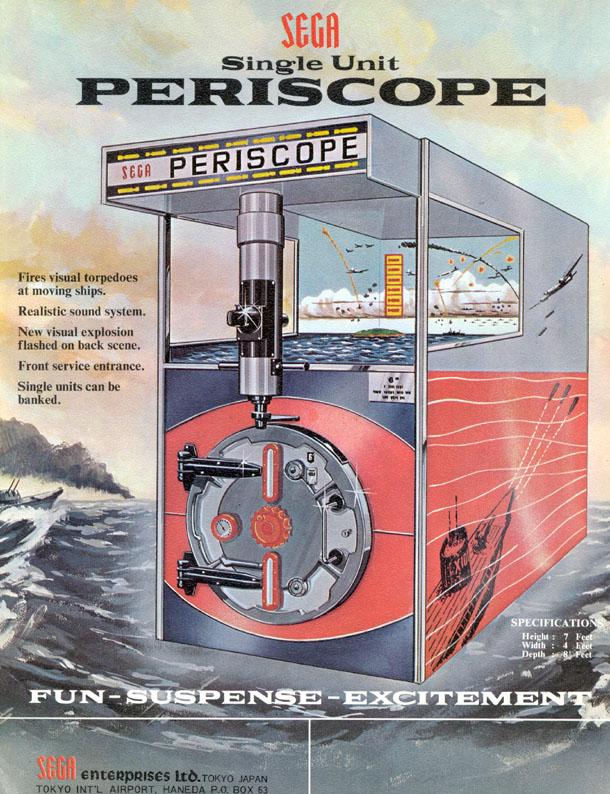 So IAP is not a new model. It is a very old model, the model that started the industry, that everybody forgot about. It's hard to imagine now, but according to Steve Kent there were some 400,000 arcade street locations in the United States. Compare this with only 121,000 gas stations or 190,000 grocery stores. That is a lot of interest in video gaming under a pay-to-play model.
Examining the pricing pressure of 2014 games
So let's talk about the sort of world game developers operate in. I'm not one, I lean more towards productivity and enterprise apps in my development. But I sell on the same market, so I know something about it.
The fundamental problem with selling games is that you have 150,000 games that you could play instead. If you think you have a unique game, you probably don't. And even if you do, it doesn't matter, because nobody will ever find out–they'll just play whatever game is in the top list or that their friends saw in the toplist, because nobody is playing any appreciable fraction of 150,000 games.
This is, basically, a problem that is unique to the games market. If you want to take notes on your iPad for example, there are maybe 25 apps that realistically will do what you want. And so you if you are really motivated you can try all those apps for yourself. Or you can look on the internet and find an article where somebody's done that for you. But nobody's playing 150,000 games. Not me, not you, not IGN. Nobody. Nobody's even going to play 1,000 games, which is well under 1% of the games market. And this is why marketing games is very hard. (You're beginning to discover why I'm not a game developer.)
It's also unique to mobile. Back in the arcade days, people were limited to playing what games were available in their geographic region. But of course with mobile we have no such constraint; game developers in Pakistan are competing with game developers in the US over the same customers. This is, I think, some of the motivation behind the "apps near me" feature in iOS 7: creating geographic markets where apps can be considered "popular" even if they are not popular in the global market.
In the console wars, there is a similar force that acts to restrict the market: dev kit fees. It generally requires between $2k-$10k to get started developing real console games for consoles, plus yearly fees and profit cuts. After that you have to strike another deal with a licensed publisher, which offers terms on par with any RIAA music label. These forces combine to allow only a thousand or so games for your xbox. That's still a lot, it's still much more choice than an ordinary person can rationally consider, but it's way less than on iOS.
People like to reminisce about the glory days of shareware but back then there weren't 150,000 titles either. DOS games indexes some 600 shareware titles. The Internet Archive indexes some 2,400 items in its "shareware CD collection" that includes such exciting titles as "The Linux Format Magazine Issue 177" and "HP Web Mouse Suite". Basically, the number of actual shareware games you could realistically run on your computing platform did not number in the thousands.
A new kind of market
Getting people to play your game in a market of 150,000 alternatives requires a different kind of marketing. For example, if the user can choose to pay $0.99 for your app, or pay zero for another app that's probably just as fun, they'll pick the free one. The result follows: 90% of apps are free in 2013 when weighted by monthly average users. And when you look only at those apps that use an experiment/test/data-driven approach for their pricing, you see a strong upward trend in more free apps. So the pricing experiments that these developers are running (you know, actual flipping research, not just speculating baselessly in an HN comment) are telling them it's better to go free.
Let's throw some math at the problem. Now I'm just making figures up, but people in the actual game industry don't like to talk about their own numbers so this is probably as close as we are going to get without a lot more people who make actual money from this opening up their books.
The average revenue per user for a successful game varies widely, but let's take $1.00 as a benchmark. Most games make most of their revenue during short bursts, say 15 days. If you want to earn enough money, say, to put your $200k development cost in the black in 15 days, that's about 14k installs per day. Meanwhile there are 5 million downloads per day so that kind of traffic is a tiny, tiny fraction (0.3%) of the daily volume.
Alternatively, say you want to price your game at, I don't know, $4.99. Now you only have to move 2600 units per day, which sounds a lot easier. However, remember those 5 million downloads? 96% of them are at prices less than $4.99, so the total daily volume in your price bracket is less than 200,000.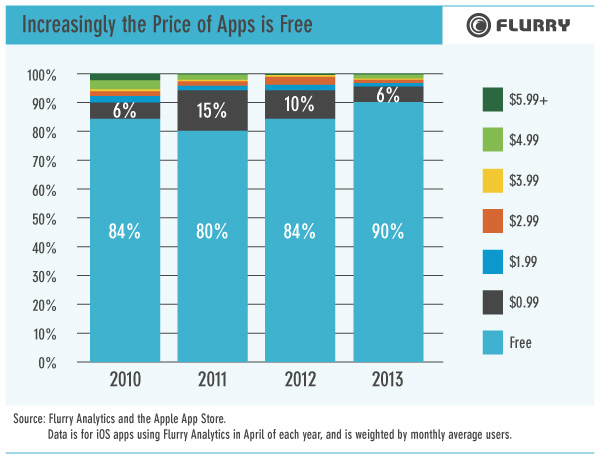 In fact, it's significantly less, because of the top 25 apps of all time, only 60% of them are games. So let's say that the total games volume above $4.99 is 120k downloads per day. And now you have to move 2.1% of the daily volume in your price bracket each day for 15 days, instead of 0.3%. That is almost a full order of magnitude more by percentage, and it means your marketing team has to reach a much higher number of iOS users than if you only needed to capture 0.3% of the daily volume.
The principle is this: the higher your price is, the less people want to buy it, so you have to raise your price, meaning that even less people want to buy it, and so on. You can pick a price that is high enough to offset the exponential drop in market size, but it is way, way higher than people's expectations. For example, the console market seems to function at $60/title. You could probably build a mobile games market that functioned at a similar pricepoint.
The trouble is that even software developers, who make their money from selling software, don't want to spend that much. If you grep the HN comment thread you see all sorts of people who would "gladly spend" $5 or $10 for some game. Very few people are thinking about $40, $60, or $80. That is the kind of pricing it would actually take.
A word on segmentation
Another topic that gets lost in this conversation is market segmentation, or, as software developers tend to know it, "camels and rubber duckies":
You see, by setting the price at $220, we managed to sell, let's say, 233 copies of the software, at a total profit of $43,105, which is all good and fine, but something is distracting me: all those people who were all ready to pay more, like those 12 fine souls who would have paid a full $399, and yet, we're only charging them $220 just like everyone else!
See, the trouble with gamers is that they are non-uniform. Kids in elementary school play games. Your wife in the checkout line plays games. And these people–well, they have vastly different spending power.
The magic of IAP is it allows a software developer to segment its market; to take in the $.10 in ad spend that the elementary school kid can pay, the $5 that the college student with a side job can pay, and the $100 that the suburban housewife can pay. In fact, something like 51% of all revenue is a transaction over $20: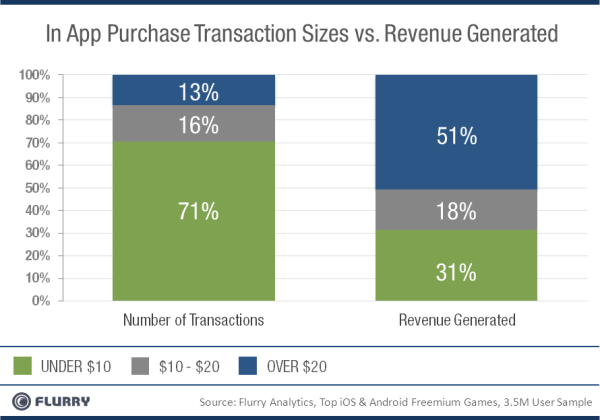 This means that simply by giving that housewife something to buy, you double your revenue.
Realistic alternatives
If we want to replace IAP, the first order of business is to do some requirements gathering. After all, if we delivered a solution that didn't meet the requirements, the game developers would look at us funny, and that is exactly the way the conversation between game developers and game customers has gone so far. Step one is to create a solution that meets the requirements. So let's list them:
No loss in revenue for game developers
Ability to segment customers and make more money from richer customers
A console-style market, with console-style gatekeepers and console-style prices, would meet the first requirement, but not the second. Also, developers tend to dislike gatekeepers, so there's that.
Following the old DOOM and QUAKE model of giving away the first levels and charging for the rest of them might work. The trouble is that when most people think about the "unlocking levels" model they think about charging $1 or $5 for more levels. Meanwhile DOOM charged $40 ($64.49 in 2013 dollars) to unlock the rest of the game. And that was in a market with probably 5 or so competitors, not 150,000. So for this model to work we are talking about $65 upgrade fees, minimum. I would certainly be interested to watch some iOS dev try this model, but I suspect a $65 upsell is quite a lot harder in 2014 than it was in 1993.
Ultimately what I suspect to be true is that you can either have a system with gatekeepers, that limits the supply of games, and $60 up-front cost for a title, or you can have a free-for-all that tries to nickle and dime you.
It may even be possible to have both systems: there is nothing to stop Apple from creating a special, curated section of 100 or so "premium" games that charge console-quality prices. The "Editor's Choice" and "Featured" lists have some precedent for this. When I say "nothing to stop them", I mean "other than developer angst about the App Store not being very 'open'", which may be significant.
But I doubt it is possible to have the benefits of one system without its inherent drawbacks. When you have 150,000 games competing for the same customers, paid apps aren't a realistic option unless you have some marketing trick up your sleeve that can overcome a 90% market handicap. The only thing you can do is draw as many customers in as possible and then once you've got them in the door bleed them for whatever they can afford, and that's why we're here.
Actually there is a third possibility: iOS games could go the way of flash games, where it's more of a hobby than a viable business. Some 70% of flash game developers are only part-time, whereas only 36% of iOS devs are moonlighters. So there's a very sobering outcome that we should consider in our analysis: we should consider that there may not be a business model for mobile games that works at all.
---
You should follow me on Twitter.
---
Want me to build your app
/ consult for your company / speak at your event? Good news! I'm an
iOS developer for hire
.
Like this post?
Contribute to the coffee fund so I can write more like it.