I consider myself a pretty smart person, but there are some things that I don't understand.  One of these things is USPS.
You may or may not know that USPS is granted a government monopoly on delivering mail and also has exclusive access to mailboxes.  This means that FedEx and UPS effectively cannot compte on the mail front.
But let's talk about packages for a minute.  Amazon 2-days something to my house at least once a week.  They use UPS.  Presumably, somebody at Amazon is thinking about shipping costs.  I grabbed a random package, and keyed the details into Shipping Sidekick to see what it would cost me to send myself that package: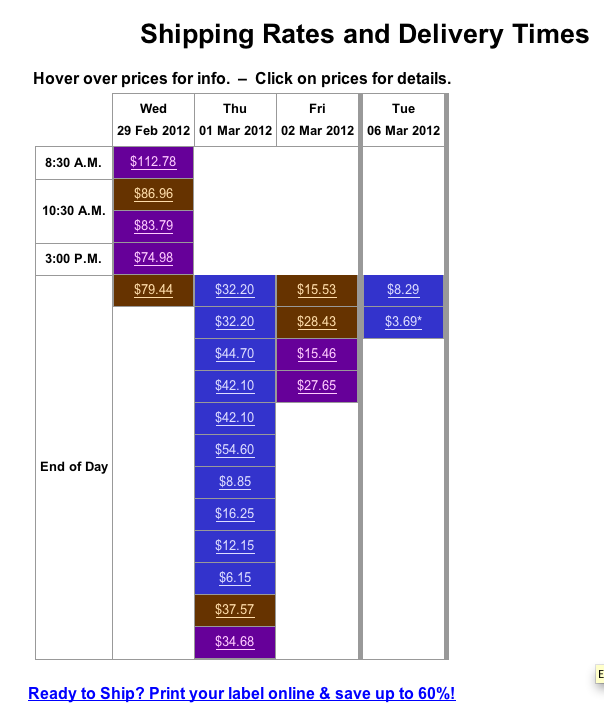 USPS is blue, UPS is brown, FedEx is purple.  Now, I'm sure Amazon gets some kind of crazy pricing from UPS, and there's some special backroom deal that makes UPS the right choice for Amazon.  But if I am shipping an arbitrary package, it is always, almost without exception, cheaper and faster to ship USPS.  You can see in the screenshot that USPS will get it here by Thursday for $6.15, and UPS will get it  here the following day for $15.53.  Plus, UPS charges extra for pickups, whereas USPS does it for free (if you're not too particular about when).  Plus, USPS throws in free boxes if you're using Priority Mail, which I often do.
This whole thing is a mystery to me because Amazon, NewEgg, Apple, and basically everybody that I receive packages from use UPS or FedEx, every time.  I can count on one hand the number of times I've gotten a USPS package from these guys.  But I can also count on one hand the number of times it has made sense to ship with FedEx or UPS, because USPS is always more economical.
So I don't get the whole shipping industry.  How can UPS and FedEx stay in business charging literally double what USPS does?  I mean, I get that the private companies are less of a bureaucracy and their tracking system is less terrible, but is that really worth 2x the shipping rate?  Or is there some secret club I'm not a member of in which UPS cuts their prices in quarters?
---
Want me to build your app
/ consult for your company / speak at your event? Good news! I'm an
iOS developer for hire
.
Like this post?
Contribute to the coffee fund so I can write more like it.